Discover Our Historical Heritage
People in Pittsburgh and the Western Pennsylvania region live in the birthplace of our nation.   Our story begins before the American Revolution, in the woodlands, mountains, meadows and wetlands of our region where, native woodland Indians, colonial settlers, French fur traders and  marines and members of the Virginia Colony regiment are about to collide.
The Penn's Colony Festival was created to remember the story of the people and cultures, the countries and empires, that made history here between December 1753 and November 1758. At that time, our region was plagued by war. The heritages and cultures of our ancestors battled against each other and resisted melting into the great melting pot that America represents. Today, many of us are descendants of multiple heritages and blended cultures.
That's why it's not just history that Penn's Colony is retelling.
It's your inheritance, too.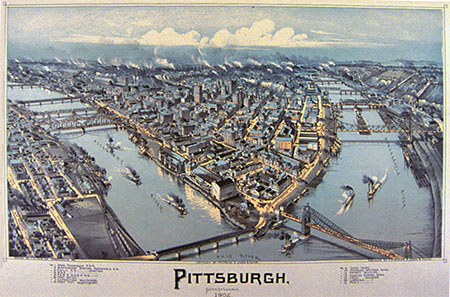 Before the American Revolution…
Before Paul Revere took that midnight ride…
There was a 21-year-old Lieutenant for the British Royal Army, Virginia Colony Regiment, named George Washington. He was headed toward that point of land where the Allegheny and Monongahela Rivers merge to form the Ohio River… the Forks of the Ohio.
Find Out What Happened Here